Excursions, Activities and Entertainment
×
Warning message
JQuery Cycle must be installed in order to run the slideshow. Please go to
Status Report
for instructions.
Excursions, Activities and Entertainment
Everyday after lessons and meals, we offer a varied program of excursions and/or activities geared to your age group and interests. All are organized and supervised by our competent staff.
Various daily activities are offered on our campuses. They are also available for students accommodated in a Host family.
We offer activities which, in our experience,have demonstrated to be very popular among youngsters.
Weekly excursion program (included) :
One full-day excursion
Two half-day excursions or organized activities off campus
(The intensive sailing program in Hyères includes 5 half days of sailing at a supplement.)
Our tour leaders organize various activities such as: Sport tournaments, games, themed activities, entertainment, French films...
A shuttle service will also be available if students wish to go to the beach or to the city center, except for Cannes school which is at walking distance from the beaches and the city center.
One barbecue evening
One disco or thematic evening (at the Atoll junior premises)
Entertainment evenings: our tour leaders organize games and fun activities such as cabaret, casino, games, Olympic games, shows... (Lighter evening activities for students accommodated in family.)
Program "Antibes/Plages"
At 450 metres from the beaches, student housing in our "max comfort" studio apartments and an exclusive program of activities for a special group of students!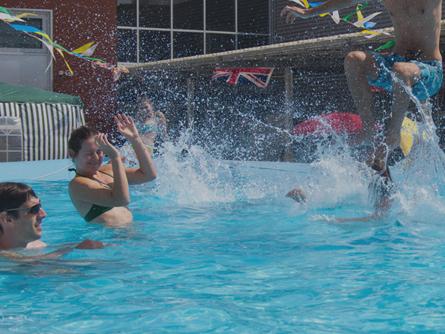 Click here for an example of activity program